PIVC – A regulatory compliant digital solution for insurers
Pre-Issuance Verification Call or PIVC as is commonly called in the insurance industry is a way for insurance companies to verify that the proposal solicited by insurance Agents matches with the needs of the customer.
Prior to issuing a new policy, it is incumbent upon the insurers to ensure that the pre-issuance verification (PIVC) is carried out to ensure the suitability of the product and obtain the full consent of the customer before the policy is issued. Additionally, insurers will have to ensure that PIVC verification includes key proposal data such as sum assured, premium amount payable, policy term, premium term and customer confirmation for the same.
How has the regulator made PIVC easier for the insurers and customers?
With the onset of COVID-19, the regulator has made several provisions through circular IRDAI/Life/Cir/Misc/274/11/2020 and IRDAI/Life/Cir/Misc/253/09/2021 to complete PIVC through electronic means which also dispenses with the physical signature on the forms. Under these provisions:
It shall be the responsibility of the Insurer concerned to authorize specific individual agents for this dispensation. Life Insurers may follow appropriate due diligence in considering such authorization.
The Insurance Agents shall not solicit non-single premium unit-linked insurance policies for annualized premium exceeding Rs.50,000 or single premium unit-linked insurance policies exceeding Rs. 1,00,000.
The Insurer shall verify at least 3% of sales to ascertain compliance with these provisions. The records of verification calls shall be preserved for a period of not less than 3 years. The Insurer shall also maintain verifiable, legally valid evidence of the proposer's consent in an unalterable and easily retrievable form for a period of six months beyond the term of the policy or until satisfactory settlement of claim, whichever is later.
Life Insurers are allowed to obtain the customer's consent through electronic means i.e., without requiring wet signature on the proposal form, for the business solicited by individual Insurance Agents and Insurance Intermediaries under all products, till 31st March, 2022.
How does insurers go about making this a reality for consumers?
Simplicity is key here as all forms of digital confirmation is difficult for customers to navigate. And hence we have kept it simple. Instead of overloading the customer to read through large paragraphs with several clicks and ticks on a small mobile screen, we provide the most important details that are needed as per regulations through a video message in the customer's chosen language. Customers can listen to the PIVC text and provide their informed consent and submit at their own pace.
We provide you (insurers) with a fully built PIVC solution which will allow your customers to complete their verification through a smart link sent via email or SMS. The link which originates from your own domain and has your own SMS header will allow the customer to step through the PIVC questionnaire in a video and verify the policy details. Furthermore, the digital PIVC also allows for the customer to provide his/her full and informed consent.
The PIVC questionnaire is available in 9 languages (English, Hindi, Tamil, Kannada, Telegu, Malayalam, Bengali, Punjabi and Oriya) and the entire video will be recorded and available for your underwriters instantly once submitted by your customers. This not only complies with the current regulations for PIVC, it also allows insurers for dispensing with physical signatures. Furthermore, this process ensures that there are no mis-selling putting the customer in total control of the final decision as intended by the regulator.
Here's how a typical PIVC journey looks like for the customer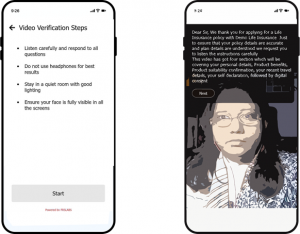 1. You make an API call from your own servers with the details you want customers to verify (we provide a template to which individual customer details get populated automatically when the API is called). This template can be customized to your needs.

2. An SMS with a secure link is sent to the customer who needs PIVC to be done.

3. Customer clicks on the secure link and the PIVC questionnaire opens up as a video in the mobile browser with the text spoken to the user.

4. Each question will be spoken to the customer in the chosen language and the acceptance (Agree/Disagree) along with the text is recorded as part of the recording.
5. Customer completes the video, reviews and submits it.
6. Once the video is uploaded, the face in the video is matched to the customer face already on file to verify that the genuine customer has completed the PIVC.
7. Our advanced AI based passive liveness check is also done and liveness score shared to ensure that only genuine customers complete this step and the process is tamper proof.
8. You can receive the video and the JSON data (text displayed and acceptance through another API call to your server so that all of your data remains in your servers)
Here's how you can get started by using our PIVC solution
1. You will invoke two APIs along with webhooks for checking progress of the PIVC from customers.
2. The first API is to initiate the PIVC step for a customer and the second API is to pull the completed data into your own servers.
3. The response will be a zip file with the video, JSON data of the video call and cropped face image from the video.
4. You can configure your own domain name when sending the SMS/Email link
5. While the regulator accepts this in lieu of physical signature and consent, you can also add Aadhaar e-Sign as part of this journey should the underwriting value be high.
6. Optionally you can invoke our face comparison and video liveness APIs for further verification following PIVC.
7. This is a ready to use plug and play service that you can use instantly. Talk to us for a demo today.
---
About
We are your friends at frslabs
FRSLABS is an award-winning research and development company specialising in customer onboarding, identity verification and fraud prevention solutions for businesses. Whether you are a big bank, insurance, telco or a small investment broker, we help you onboard and verify your customers with greater flexibility, compliance and reliability.
Built for you, not for investors
We do what is right for you (and only you) at scale. Nothing is off-limits for us when it comes to innovation, a culture best reflected in the array of patents we have filed. We want to be your trusted partner, to build the solutions you need, and to succeed when you succeed.
Priced for success
We are driven by our mission to touch a billion lives with our tools and not beholden by venture capital or mindless competition. We therefore have the freedom to do the right thing, and price our products sensibly, keeping your success and our staff in mind.
Supported by humans
Whatever it takes, we are here to help you succeed with our products and services. For a start, you get to talk to a human for help, not bots, to figure things out one-to-one. Whatever your needs, however trivial or complex it may seem, we have you covered.
**