Following the footsteps of RBI and SEBI allowing regulated entities to onboard and verify customers using a video call (V-CIP or V-IPV as the process is commonly known), IRDAI has taken steps to let Insurance Companies do the same (known as VBIP). Here's how you can use our ready to use, zero integration, secure and enterprise grade Video KYC solution to onboard insurance customers.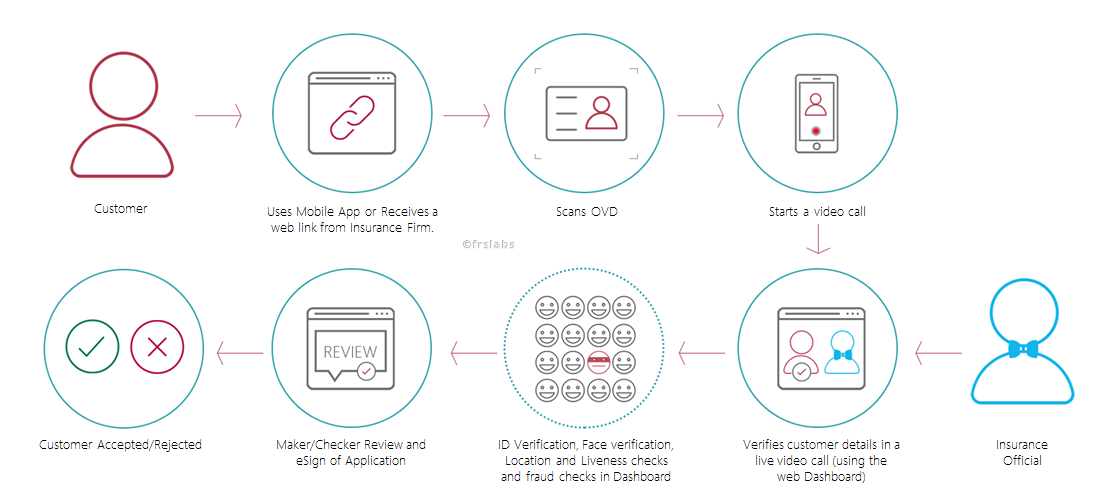 Zero integration option – Simply sign up for Video KYC, map your domain, login to our Video KYC dashboard and initiate a video call with your customer in less than an hour.  Its that simple. Don't take our word for it, take a free test drive and see for yourself.
Round Robin Call Alerts – Once you have sent a link to the customer via SMS and Email or the customer uses your Mobile App to initiate a video call, your Agents will receive a live call alert (like a phone call) to accept the call and complete the Video KYC process.
Single Screen Aadhaar Offline – Another unique innovation where all of the Aadhaar offline is completed in a single screen without redirecting the user to UIDAI web page. One of a kind user experience for your prospective customers.
KYC Dashboard – Once the call is completed, you can view the entire journey of the recorded video, ID checks, Identity Checks, Video Checks, Fraud Checks through a single easy to use dashboard interface. No training needed to use the dashboard.
Maker Checker Verification – Role-based authorization for Maker and Checker to complete the steps and verify them before they are approved or rejected.
Audit KYC File Folio – A unique PDF file folio that captures all of the KYC details and checks carried out for ready reference and audit logs in chronological order. Think of it as a resume of your new customer, only better. A single KYC file of truth that can be used across your organisation such as Risk Underwriting, CRM and Claims Departments.
Fraud Prevention – Make it easier for legitimate customers to sign up for your products and services but make sure that fraudsters are prevented in their tracks. A unique fraud network mapping solution that matches applicants against known offenders and fraudsters using your own historical data.
eSign – You can use all of the documents accepted under eSign (FRSLABS is a certified ASP for eSign). With just a single click and Aadhaar/OTP the users can sign the policy document and medical reports.
Call Quality – Your reputation is on the line when it comes to the video call with your customer. We guarantee call completion at a minimum of 40 KBPS bandwidth with failsafe load balanced architecture.
Configurable Agent Screens – No two customers are the same and that's why we have made the screens configurable as simple as updating a word document and swapping the pages as per your needs. For instance, you can have Aadhaar Offline, OVD Capture, Face Capture, MER Capture, Signature Capture, eSign etc. configured to your needs.
Multi Tenancy Set up – Each regulated entity is unique and have multiple divisions (Life, Health, Motor and so on). And different divisions have variations in their KYC flow. We provide the option to configure a multi-tenancy set up using the same dashboard. So, set up once for your organisation and use for multiple needs.
Mobile and Web – You can have it the way you want. Integrate our Mobile SDK (Android and iOS) into your native Apps (App download needed by customers) or simply use the portal dashboard and APIs to initiate and complete the video calls (no App download needed for customers).
On Cloud or On Prem – Think long term to ensure that you are not left high and dry when you begin to scale. We provide a cloud platform for as long as you need as you look to migrate the services on-premise over the long term to have total control over the process, security, privacy and data.
Try our Video KYC (VBIP) free for 14 days. Get a demo today.
About: FRSLABS is an award-winning research and development company focussed on identity verification and fraud prevention solutions for businesses. We are building the next generation video KYC, OCR, face verification, identity verification and IRSF fraud prevention solutions to benefit a billion people.