Positive Pay Introduction
Positive pay is a cash management service by Banks to prevent cheque fraud. The intent is to ensure that the cheques once issued are not tampered when they are presented for clearance.  Positive pay service allows the Banks to match the details of the cheque issued with the cheque received before they are cleared. With approximately 90 million cheques issued and processed each month, the problems and turn around times (TAT) are aplenty even in good times and in bad times they are back-breaking and back-tracing work for the Banks.
RBI on Positive Pay
While most Banks already have checks and balances in place for high value cheque clearances (e.g. calling the customer and verifying the details), the RBI governor thinks that not enough has been done to fight cheque fraud.  Therefore, the governor has mandated that all high value cheques issued over INR 50,000 to be verified through the positive pay mechanism. Just to put this in context, positive pay for cheques over 50,000 will cover around 20 per cent of cheques by volume and 80 per cent of total cheques by value. So out of the 90 million cheques processed each month, we are looking at about 18 million of these cheques to be validated through positive pay process each month. While its discretionary for the account holder to comply, Banks can mandate if necessary, for high value cheques. The catch: only those that comply with Positive Pay will be accepted under the CTS dispute resolution mechanism, therefore, it is in the good interest of the account holder and the Bank to make use of Positive Pay.
Cheques over digital payments
Even with the proliferation and ease of digital payments, cheques have a special place for small and medium sized businesses and traders who are less tech savvy, unable to navigate the digital banking systems and generally distrust online payments when it comes to dispute resolution. Besides there is convenience: there are simple ways to stop a cheque if funds are short or issue post-dated cheque to secure the funds before the cheque is presented for clearance. Whereas, most digital payments are instant, inflexible, require great deal of attention and doesn't bode well for cash strapped traders and businesses. And finally, cheques are free while online payments are charged a fee.
Friction in Positive Pay service
The introduction of positive pay, however beneficial it may seem, presents significant friction to those who are used to writing, tearing, and handing over a cheque to a payee and be done with. The additional steps like scanning the front and back of the images and entering some basic details (e.g. Payee name, amount and date), uploading them to the Bank, before issuing cheques will surely be a hassle.
How can our technology can help with Positive Pay?
Here's how Banks can leverage technology (not for technology sake) to reduce friction and do the heavy lifting on behalf of the customer and leave only the bare minimum to comply with the positive pay directive. Here's how the solution works.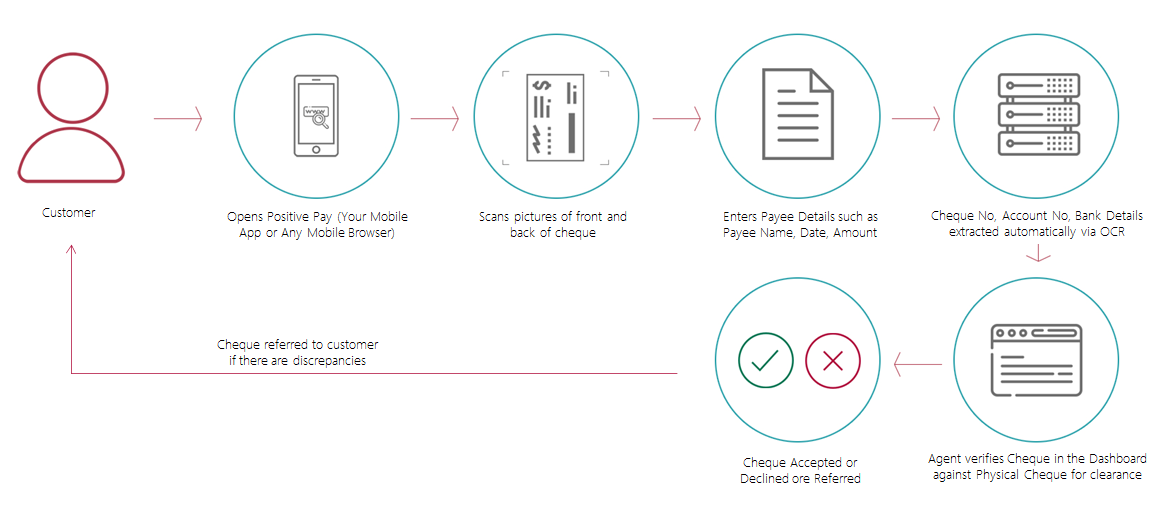 Here are the steps that the customer takes when issuing a cheque of value over INR 50,000.
Customer scans the cheque leaf (captures the front and back of the cheque)
We automatically extract the majority of the details from the Cheque (Account Number, Cheque Number, Transaction Code, IFSC, MICR and Bank Details)
Customer enters the following details (Payee name, Amount, Date) and verifies that the rest of the details are correct and Submits
The data is presented in our Dashboard for Bank Officials to compare when the Physical cheque comes in for clearance.
The Bank Official compares the Physical Cheque against Digital Cheque to Approve/Decline.
Here's how you can integrate the technology for your Customers
With just a few lines of code and our cloud dashboard, you can get started in a couple of hours. You can provide this as part of your Mobile Banking (integrating our Android and iOS SDK) or as part of your Online Banking by calling our pre-built web screens and APIs.
If you are considering implementing Positive Pay in your Bank, let's talk >
---
About
We are your friends at frslabs
FRSLABS is an award-winning research and development company specialising in identity verification and fraud prevention solutions for businesses. We are building the next generation video KYC, OCR, face verification, identity verification and IRSF fraud prevention solutions to benefit a billion people.
Built for you, not for investors
We do what is right for you (and only you) at scale. Nothing is off-limits for us when it comes to innovation, a culture best reflected in the array of patents we have filed. We want to be your trusted partner, to build the solutions you need, and to succeed when you succeed.
Priced for success
We are driven by our mission to touch a billion lives with our tools and not beholden by venture capital or mindless competition. We therefore have the freedom to do the right thing, and price our products sensibly, keeping your success and our staff in mind.
Supported by humans
Whatever it takes, we are here to help you succeed with our products and services. For a start, you get to talk to a human for help, not bots, to figure things out one-to-one. Whatever your needs, however trivial or complex it may seem, we have you covered.
**