Penny drop overview
Bank account verification or penny drop check as is commonly referred to is a way to verify the authenticity of a user's Bank Account. This is achieved by depositing a small amount (usually a penny and hence the name) – usually INR 1 (one rupee) in the Indian context – which returns the validated bank details along with the beneficiary name.
The penny drop checks are done for numerous reasons but mostly to verify that the user's bank account is authentic and that it belongs to the user signing up for the service before transacting on it (e.g. depositing money or receiving money).
Penny drop transaction
Here's how penny drop works, in the Indian context.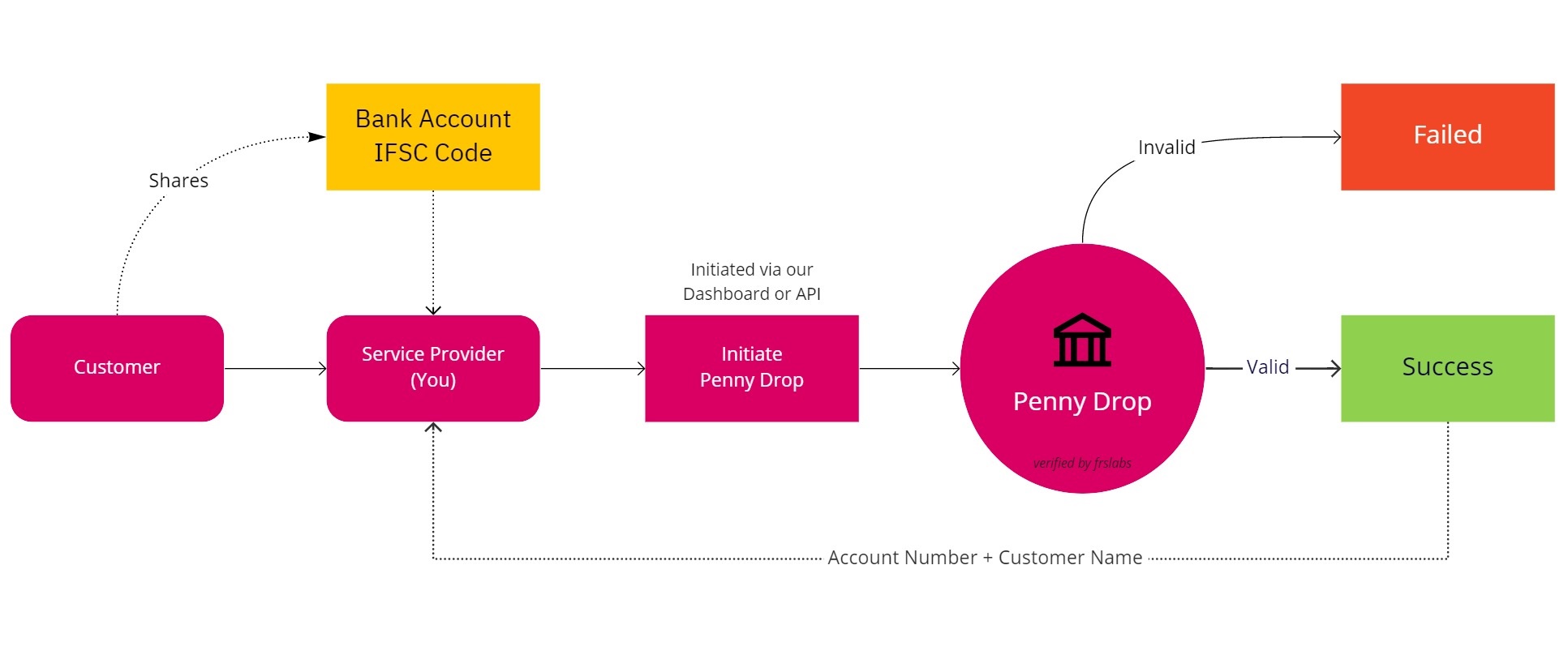 1) Customer shares Bank Account Number and IFSC with You (Service Provider);
2) You invoke our Penny Drop function (through our API or through our no-code Dashboard);
3) Our Penny Drop system drops a penny (INR 1) into customer's Bank Account (money for penny drop is taken from our own Bank Account maintained for this purpose);
4) Penny Drop succeeds (if the Bank Account is valid) or fails (if the Bank Account is invalid/fake/inoperable);
5) A successful Penny Drop transaction returns the verified Account Status and Beneficiary Name. A failed Penny Drop returns just the Account Status and the failure reason.
Additionally, once the penny drop verification succeeds, you can compare the identity (KYC) details provided in the application form against the beneficiary name returned from the bank to validate the customer beyond doubt.
Learn how you can identify fraud using KYC and Bank verification >
Talk to us so we can show how penny drop can be done from a cancelled cheque instantly >
Is Penny Drop or Bank Verification a regulatory requirement?
In April 2020, SEBI (Securities and Exchange Board of India), that regulates securities and commodities market in India, in its KYC circular has specifically recommended verifying Bank Accounts using penny drop as part of onboarding investors by SEBI regulated intermediaries. On 06 October 2020, PFRDA in its VCIP circular mandated instant bank account verification through penny drop to verify the bank account details of the beneficiary. Therefore, multiple regulatory bodies in India have mandated the safe use of penny drop facility to verify customers.
Where is penny drop services commonly used?
The vast majority of the penny drop checks are done by financial institutions and in particular companies lending to businesses and consumers. The lender can verify that the KYC proofs submitted matches with the beneficiary details obtained as part of the penny drop check. Apart from validating that the KYC details belongs to the right user, bank verification can help cut down on fraud and identity theft whereby the loan is taken on synthetic or stolen identity but the bank account belongs to the fraudster trying to defraud the lender. With just a penny drop, large scale losses can be avoided by the lender.
Penny drop checks have found its way into the insurance industry to verify the bank account details of subscribers before premiums are paid on maturity. Talk to us about how we help the insurance industry to OCR the cheque details and complete penny drop verification in a single non-intrusive step.
Besides, penny drop verification is useful for businesses of all shapes and sizes. For example, an organisation with just a few employees can verify the Bank account details through a penny drop. This will ensure that the Account holder is the same person employed (you'd be surprised how many aren't) before beginning to transfer salaries and expenses. Imagine salaries or expenses going to the wrong accounts or failing to be transferred and the resulting stress for both the employer and the employee.
Learn more about about PAN Verification, Penny Drop and Name Check as part of your KYC >
How can I do a penny drop verification for my customers?
Let's take a real-life example. Let's suppose you want to verify the Bank Account of your prospect before onboarding as a customer.
Step 1:
You will need to request the following details from your User prior to verifying the bank account.
1) The Bank Account Number
2) The IFSC Code
Step 2:
You can use the our dashboard to instantly do a penny drop check. This does not require any integration or coding on your part. Once you login, you can simply complete the penny drop verification instantly. Please book a demo today so we can show you exactly how this is done.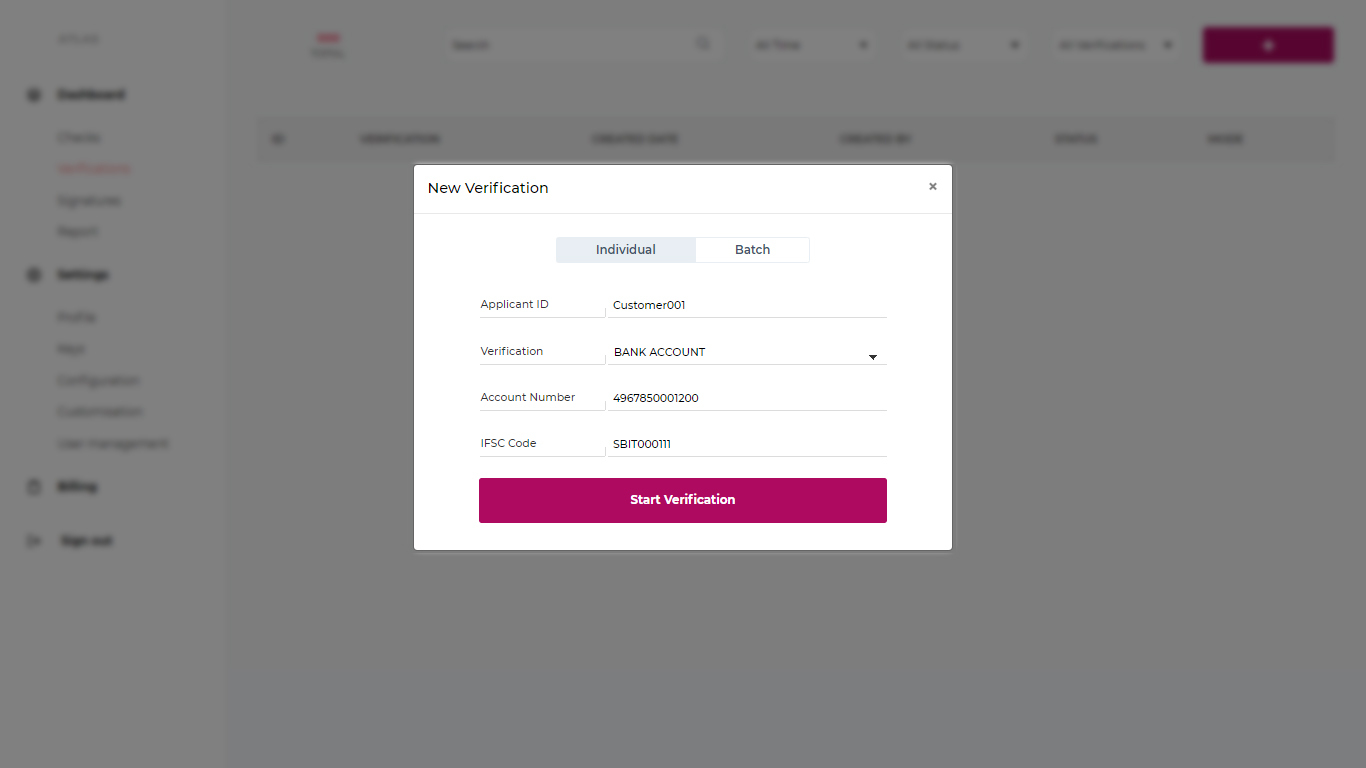 As you can note, you can do an individual penny drop check or if you have a number of customers who have submitted their bank account details, you can do a bulk penny drop check. All of the details can be viewed in the dashboard and can be downloaded to your own server once completed.
Talk to us about your penny drop requirement >
How can I integrate your APIs within my own Application for penny drop?
If you are interested to integrate our penny drop APIs into your own application, you can follow these steps.
Step 1:
Once you have the Account Number and the IFSC Code, you will need to make an API call to our server. Don't be alarmed, APIs are your friends whereby just a few lines of code in your server (you can use the sample code already available to build yours) and you can complete this in no time.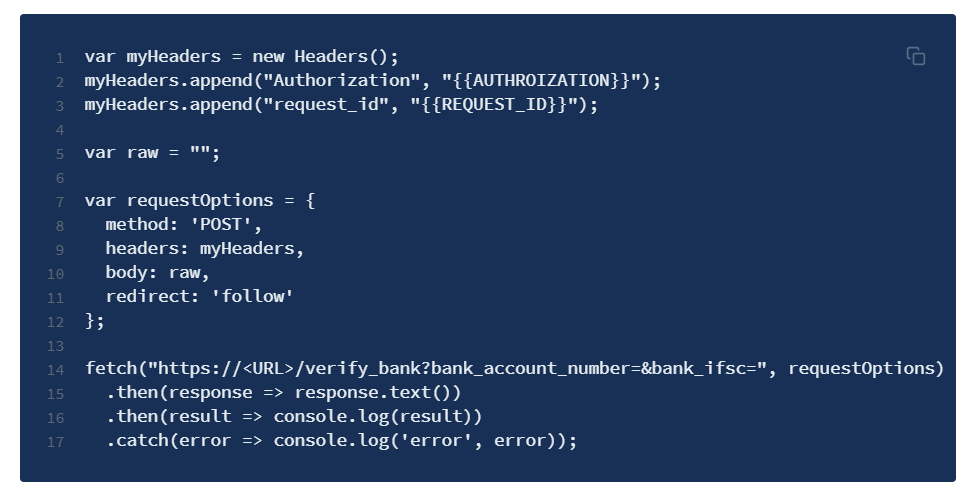 Step 2:
Once an API call is made, it will return a response. The response will usually be in the form of JSON which your Application can now handle. For example, if the Bank Account is valid, it will return the Bank Details, Beneficiary Name and a Success status. If the Bank Account is invalid, it will return an error code along with the reason why it had failed.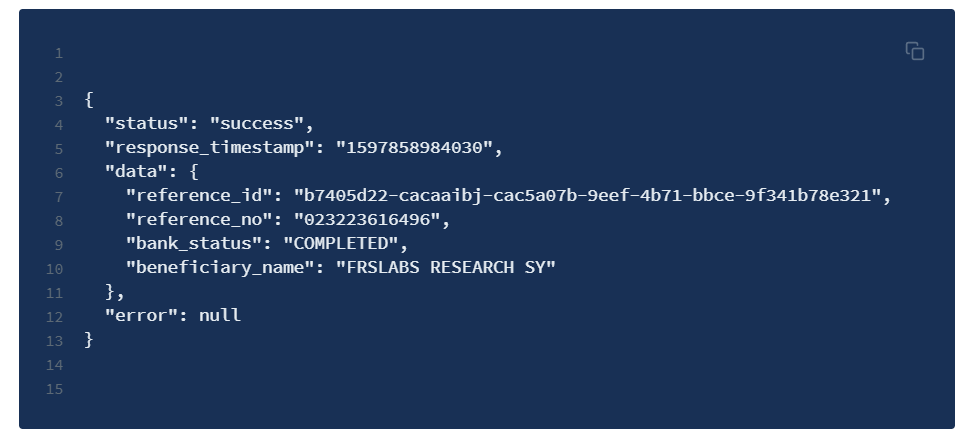 That's it. In just a few steps, you will now be able to verify the details of your users before you onboard them. You can go one step further by matching the beneficiary name with the name in PAN or Aadhaar to verify the true identity of the beneficiary.
View our Bank Verification API documentation >
See how you can use penny drop as part of Video KYC (VCIP/VIPV) >
---
About: FRSLABS is an award-winning research and development company focussed on identity verification and fraud prevention solutions for businesses. We are building the next generation video KYC, OCR, face verification, identity verification and IRSF fraud prevention solutions to benefit a billion people.
.