PAN Verification Overview

PAN verification is a simple and robust way to verify the genuineness of a PAN card. For those of you who are new to a PAN card, it is the equivalent of Tax ID number issued to citizens and businesses of India. The PAN card, which is ten characters (alpha-numeric) in length, is issued by the Income Tax Department of India.
PAN as proof of ID
PAN card is widely accepted as proof of ID pretty my all service providers in India. Moreover, it is mandatory for obtaining financial services and filing income tax in India.
A typical PAN card issued to an individual would look as follows: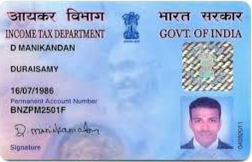 A typical PAN card issued to a business would look as follows: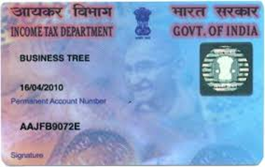 PAN card structure
The ten-digit PAN number is structured as follows:
The first five characters are letters (in uppercase by default), followed by four numerals, and the last (tenth) character is a letter.
The first three characters of the code are three letters forming a sequence of alphabets letters from AAA to ZZZ
The fourth character identifies the type of holder of the card. Each holder type is uniquely defined by a letter from the list below:
A — Association of persons (AOP)
B — Body of individuals (BOI)
C — Company
F — Firm
G — Government
H — HUF [Hindu joint family|Hindu undivided family]
L — Local authority
J — Artificial juridical person
P — Individual or Person
T — Trust (AOP)
The fifth character of the PAN is the first character of either: of the surname or last name of the person, in the case of a "personal" PAN card, or of the name of the entity, in the case of a "business" PAN card.
The last (tenth) character is an alphabetic digit used as a check-sum to verify the validity of that current code.
Instant PAN verification for KYC

As is widely accepted as proof of ID and the card itself has minimal variations over time (in comparison to other government issued identity cards in India), it is fairly easy to accept and verify the PAN card in real time. Income Tax Department of India, through its authorized agencies (e.g. NSDL), allows authorized entities to verify PAN through APIs.
Instant PAN verification using Dashboard (no code and no integration needed)

Let's take a real-life example. Let's suppose you want to verify the PAN card of your prospect before onboarding as a customer.
Step 1:
You will need to request the following details from your User prior to verifying the PAN card.
Step 2:
You can use the frslabs dashboard to instantly do a PAN verification. This does not require any integration. Once you login, you can simply complete the PAN check instantly. Please book a demo today so we can show you exactly how this is done.
As you can note, you can do an individual PAN verification or if you have a number of customers who have submitted their PAN details, you can do a bulk PAN number check. All of the details can be viewed in the dashboard and can be downloaded to your own server once completed.
Talk to us about your PAN verification requirement >
Instant PAN verification using API (integrate into your own Application)
In order to do a real time PAN verification, you will need to make an API call as follows: Please refer to the full API details here.

And the response will be as follows: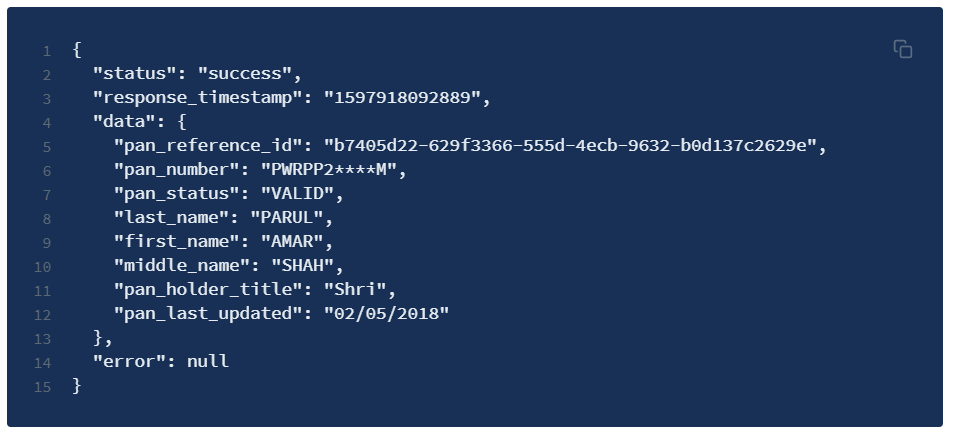 The real time verification itself takes no more than 3-5 seconds so the user experience is not hampered doing this on the fly at the time of onboarding to verify the PAN.
Conclusion
PAN verification is now an essential part of customer verification through assisted and unassisted video kyc solutions. The regulators are in favour of such validations to ensure that the person undergoing video kyc or other means of non-face to face onboarding is the true owner of the PAN. Aside, there are also ways to verify that the name of the PAN matches with the KYC compliant Bank Account by doing a penny drop check and matching the Bank Account Name with PAN Name proving the identity of the person with great confidence.
Other than PAN, you can also verify Bank Account (Penny Drop), Voter ID, Driving License, GST and Aadhaar in India. These APIs are easy and simple to integrate with extremely low costs.
Book a free demo to see PAN verification in action >
Read about penny drop – bank account verification >
---
About: FRSLABS is an award-winning research and development company focussed on identity verification and fraud prevention solutions for businesses. We are building the next generation video KYC, OCR, face verification, identity verification and IRSF fraud prevention solutions to benefit a billion people.